My first encounter with the world of sak yant (yantra tattooing) was at the famed Wat Bang Phra temple in Nakorn Chaisi on the day of its Wai Khru ceremony. This was back in 2003, early on during my stint in Thailand,  covering the event for a magazine feature; not knowing then, that I would later go much deeper and embark on one of the most ambitious projects of my career, "Yantra: The Sacred Ink".
Over the years, I grew more intrigued by local beliefs in magic and how widespread, across all social divides, superstition was in the south east Asian region. I wanted to work on a personal project to explore this and discover how local spiritual traditions often incorporate magic and superstitions. In Thailand, I was particularly curious about people's need to seek "protection" from bad luck, evil spirits and danger by using sacred and "magic" text, or "Yantra".
Yantra is often written on cloth, used to bless cars, homes and businesses. But it also adorns the human body in the shape of spiritual tattoos known as Sak Yant (Yantra tattoos). It is an age old tradition, with historical records as old as 200 BC, from the Chinese Qin Dynasty depicting tattooed men in the region. The spiritual Yantra or Sak Yant tattoo tradition (Sak means to tap, whilst yant is derived from the Sanskrit word yantra, meaning scared geometrical design), is practiced across southeast Asian countries, including Cambodia, Laos, and Thailand. The complex spiritual landscape in the region incorporates elements of Buddhist, Brahman, Hindu and Animist traditions.
The first portrait session happened by chance when, on assignment, I met a shipyard worker, inked head to toe with script and magic spells, and arranged to return the following week with a 6×6 medium format camera.
I was later introduced to tattoo masters who eventually allowed me to witness and photograph countless ceremonies, blessings and tattooing sessions.
I then began seeking out sitters all over Thailand to photograph them for the large format portrait series featured in 'Yantra: The Sacred Ink'.
Shot on a 4×5" camera the series of black-and-white portraits – the negatives of which are chemically altered by brushing various chemicals onto the emulsion, depict men from all walks of life and all ages, proudly showing the inked protection on their bodies.
The 'Yantra: The Sacred Ink' project was officially first launched on May 25th 2011, with a major exhibition at Bangkok's Chulalongkorn University Art center, featuring 56 black & white prints, a multimedia display with images and sound as well as antique Yantra shirts (historically used by Thai soldiers for protection in battle) loaned by the Museum Siam.
Extract from the short film "Yantra: The Sacred Ink' – Currently on show at musée du quai Branly in Paris, (May 2014 – October 2015) and on show at Tropen museum in Amsterdam from March 20th to August 20th 2015
Selected Exhibitions: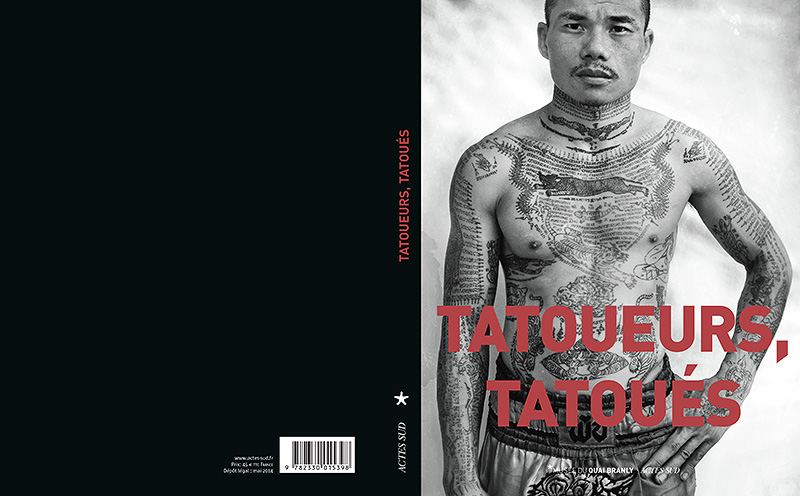 Tatoueurs, tatoués, Musée du Quai Branly, Paris. May 6th 2014 – Oct 15th 2015
Body Art, Tropen Museum, Amsterdam – March 20th – August 20th 2015
'Yantra: The Sacred ink' Galerie Olivier Waltman, Paris – May-Jun 2014
'Yantra' – Galerie Olivier Waltman, London Art Fair, Jan 2014
Festival Photo Saint-Germain-des-Prés Galerie Olivier Waltman, Paris – Nov 2013
ASEAN ('Sacred Ink') – Le Magasin de Jouets, Arles – July – Sept 2013
'Sacred Ink' – SNAP Photo Festival, Orlando – May 2013
'Sacred Ink' – Nov 2012 – Jan 2013 – Farmani Gallery – Bangkok
'Sacred Ink, The Tattoo Master' Oct – Dec 2012 Brunei Gallery London – SOAS
'Sacred Ink' May 2011 Chulalongkorn University Art Centre – Bangkok
For more info and photographs of the exhibitions, click here
Selected Print publications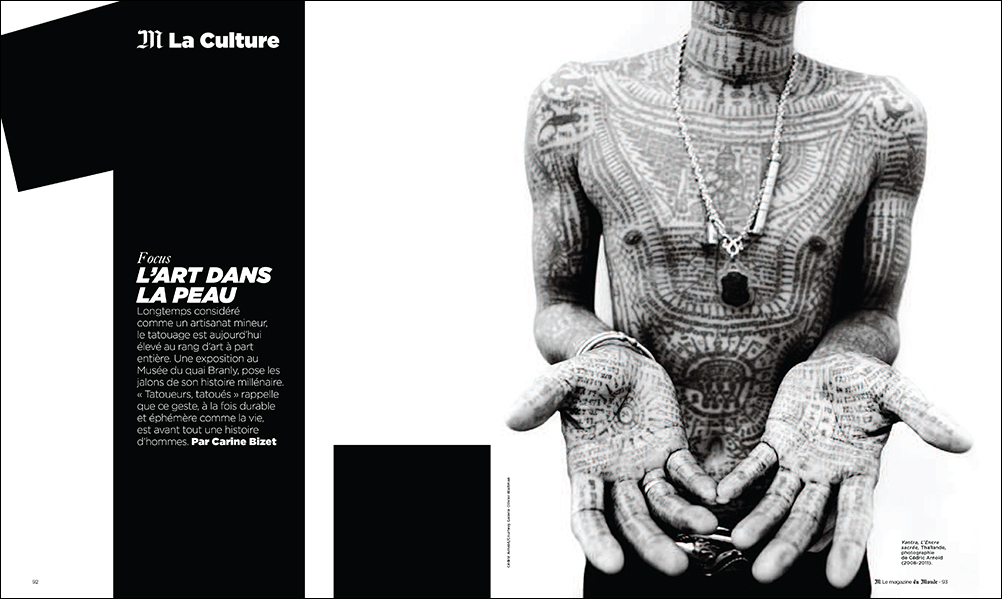 "Tattoo" – Actes Sud / Musée du quai Branly
"Encre Sacrée" – Geo Magazine, France
"L'art dans la peau" – Le Monde Magazine, France
"Carving Spirituality" – Picture Power, Newsweek Japan
"Grand designs" – Spectrum – The Sunday Times Magazine 
"Yantra: The Sacred Ink" – January Art Magazine, Australia
Yantra: The Sacred Ink" – The Trip Magazine – Italy
"Yantra: The Sacred Ink" Hey! Modern Art and Pop Culture – France
More publications
Online features, interviews & profiles:
Slate Magazine
France Fine Art
Arts hebdo
Boat Magazine
Die Nacht
Wayne Ford
Newsweek / Daily Beast
Lomography
Lens Culture
Actu Photo
Artsper
Vogue.fr
Jetez L'encre
Ein Dutzend
Sport et Style
Artslandstreet
Art Market Review
Excerpts from reviews
" There's a certain unnerving juxtaposition about Cedric Arnold's photography. There is an obvious potency, or aggression – men standing in various stages of undress, stoic, staring, unblinking; yet there is a reverence or calm that provides depth and intrigue." – January Art Magazine
"Arnold's powerful, yet sensitive portraits present a mystical subculture through its rituals, and symbols; a chest etched with a fierce leaping tiger, a hand adorned with images of geckos on each finger, a back protected by a monkey God, or a shoulder inscribed with ancient Khmer text…" – Wayne Ford
Gallery representation / Paris